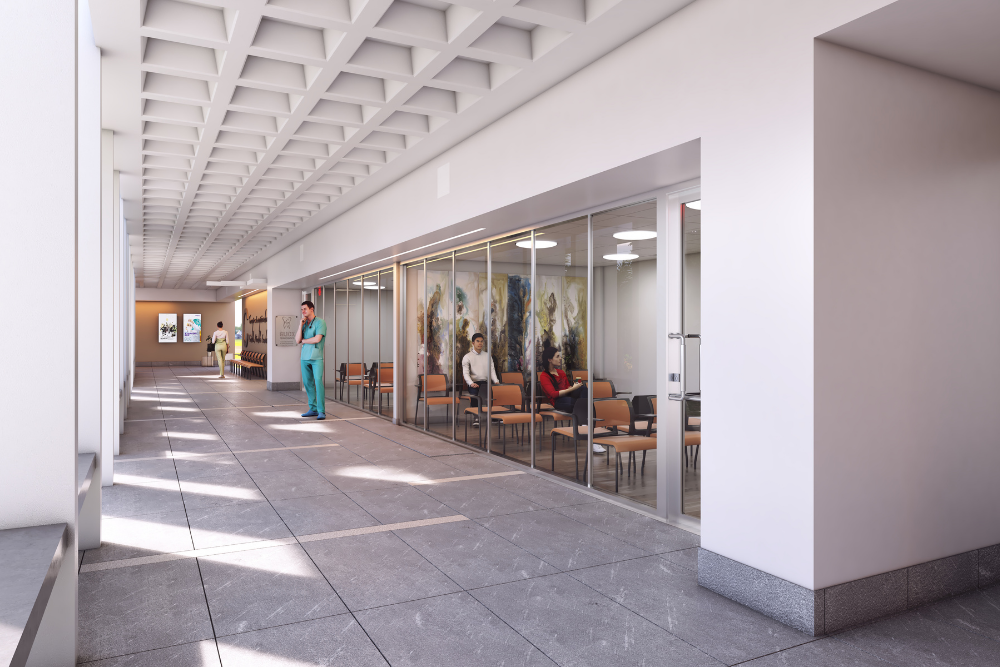 10 Apr

Six Healthcare Design Trends

The healthcare industry provides a very diverse platform for architectural styles. These range from the small community doctor that cares for the neighborhood to large, modern hospitals that have thousands of patients come through their doors daily. With each facility, you find that there are essential elements to all of them but also unique features in design that help assist the local community. Healthcare is also an industry that is in a constant state of growth and development, which is why architects that work with healthcare needs to design for both the needs of the professional and for the patient. Shaping the future of our healthcare, here are six important architectural trends.
Prevent Overcrowding
When visiting a healthcare facility, the last thing a patient wants to feel is claustrophobic because of overcrowding. Overcrowding can largely be the result of floor plans that inadequately accounted for proper traffic flow. Anticipating overcrowding by taking advantage of every square inch of a room's layout and maximizing space can go a long way in making a patient feel more comfortable. Physicians also benefit from having enough room to perform their tasks comfortably. Strategically placing patient sub-waiting areas and accommodating family members can also help ease these issues.
Customized Patient Rooms
Being in a healthcare facility can cause anxiety to a number of patients. Healthcare architecture is increasingly attempting to allow for more personalized patient rooms to reduce anxiety while enhancing comfort. Features like patient communication boards and customizable digital signage with the name of the patient, family photos, weather forecasts, and more are being incorporated into healthcare facilities. These customizations can go a long way in a patient's experience and satisfaction, making the medical staff duties more pleasurable.
Micro-Hospitals
Small-scale inpatient facilities are rapidly increasing. These micro-hospitals feature the likes of an ER, pharmacy, and laboratory services while also offering radiology, minor surgery, and other services found in full-size hospitals. These facilities provide easy access to a full suite of healthcare services for patient convenience. They are local to communities, reducing the need for travel to the larger hospitals outside of patient communities. Architects find a niche for creative and functional design within these unique, smaller spaces.
Bringing Home to Healthcare
It is often hardest for patients, especially those in for long-term stays, to feel at home when in a healthcare facility. You can see why this happens when you observe traditional healthcare architecture–white walls, pale colors, fluorescent lights and sterile surfaces. Facilities that are designed to be more hospitable, offering warmer artwork and color palettes, larger windows to allow for more natural light, and furniture that looks and feels more like home decor will certainly add to the patient's comfort level.
Modular Rooms
Since patients may have multiple visitors at a time, hybrid products, like sofa beds and recliners, can go a long way to ensuring that caregivers and visitors have the space they need, when they need it, without crowding the room. Using convertible furniture is an easy design solution for making healthcare architecture work for a number of patients and their guests. Having family and friends close during recovery can make a dramatic difference, and this trend facilitates that.
Access to Nature
The healing power of nature is indisputable. Healthcare architecture that is purposefully designed to give patients a view and access to reconnect with the outdoors can be great when breaking the anxiety of being in a healthcare facility for an extended stay. Gardens, live plants throughout the facility, and plentiful windows open to green grass, trees, and shrubbery, brighten rooms and add a sense of serenity and calm. The design industry continues to have discussions regarding healing gardens, which are meant to relieve stress and heighten the sense of healing.
With so much evolution in the healthcare architectural landscape, the challenges to create something beautiful, inviting, and functional are overcome with the right design team. Arquiteg has the experience and the innovation of your healthcare project. See some of our healthcare achievements for yourself.